The day before yesterday, on 1 June 2021, Kosovo Sustainable Development Week (KSDW) started the first day of the conference that addressed the topic "Decarbonisation - Climate, Energy and Mobility" with 2 Discussion Panels.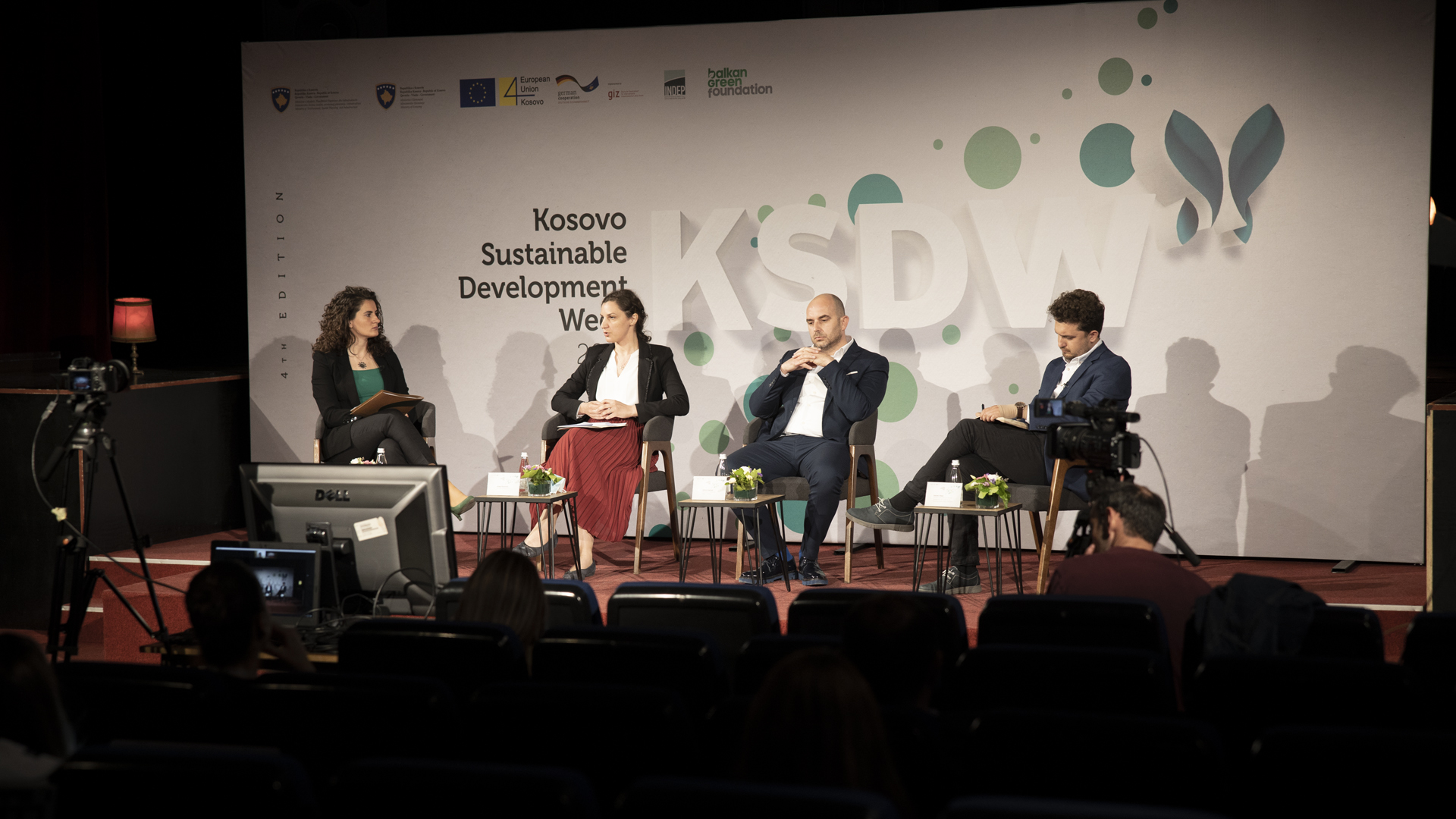 Panel 1 "Balkan Path to a Just Energy Transition"
The first discussion panel was "Balkan Path to a Just Energy Transition". The panel brought together the Minister of Economy, Artane Rizvanolli, the Regional Manager at AKUO Energy, Arbnor Kastrati, and the Program Director and Researcher at the Institute for Development Policy (INDEP), Dardan Abazi. Whereas, Southeast Europe Energy Advisor at BankWatch, Pippa Gallop, has also joined virtually. The panel was moderated by Rinora Gojani, Program Manager at the Balkan Green Foundation (BGF).

In the introductory speech, Ms Gojani stressed that the transition of the region has gained great importance at the level of national policies, but also those of EU, as part of the goal of addressing the effects of climate change. According to Ms Gojani, the so-called just energy transition is particularly important for Kosovo, as almost all of its energy comes from coal and a significant number of people are employed in the coal sector. Kosovo institutions have long invested in the construction of a new coal-fired power plant, thus wasting time for the state to commit to preparing for a just energy transition. Also, Ms Gojani said that KSDW is a platform which serves directly as an exchange of recommendations and offers clear solutions for sustainable development.

Minister Rizvanolli said that the energy sector has great and serious challenges, as a result of the coal capacities which are old and inefficient. "Negligence, wrong decisions and withdrawing from such decisions for the last 20 years have brought us to a situation where everything is urgent and decisions need to be made quickly. These decisions are serious and affect future generations", stated Minister Rizvanolli. At country level, the Minister stressed that cooperation with Albania and coordination of market policies and rules with Albania is extremely important for us as a country. Complementarity with Albania can be key for using the opportunities for Albania's balancing capacities that come from their hydro capacities and these are closely linked to our capacities in order for us to integrate greater RES capacities in the future, stated Ms Rizvanolli, among other things.

Dardan Abazi from INDEP said that he feels encouraged by the speech of Minister Rizvanolli, but he thinks that the first thing we should do as a state is to agree on our destination. Measures that can be taken according to Mr Abazi are taxation of pollutants, better management of dedicated ecological taxes, taxation of inefficient equipment, abolition of taxes on new and hybrid vehicles, promotion of energy efficiency and efficient measures, reduction of emissions and incentive measures to guide citizens to renewable resources. In addition, Mr Abazi called for the involvement of civil society in energy decision-making processes and also proposed that we adopt the Law on Renewable Resources, which would then clarify competencies between actors. These measures, according to Mr Abazi, would bring energy reform to the country and integrate the country into the European market.

On the other hand, Mr Kastrati drew a parallel between the energy sector and the COVID-19 pandemic. He reflected that the measures taken to prevent the pandemic were opposed by all, but they turned out to be the most beneficial ones. Similarly, investments in RES are not being easily accepted, but even these are the only measures that secure the future. Mr Kastrati stated that for the sector he represents, i.e. the business sector, it is necessary for them to be included in the Government's plans for energy investments and to have space to comment. According to Mr Kastrati, the involvement of the private sector would potentially provide even cheaper energy costs.
Ms Gallop said that energy decisions are urgent for the stage at which the energy sector is in Kosovo. According to Ms Gallop, decarbonisation must be achieved by 2050 and Kosovo must balance the risk posed by coal in all aspects and the country must anticipate the decisions it will take. As the energy sector is changing rapidly, finally Ms Gallop urged Kosovo to think carefully before investing in gas, as gas is likely to become obsolete quickly. The full video of this discussion can be found at the link below: https://www.facebook.com/KSDWeek/videos/146808120719807

Panel 2 - "Digitalization of energy efficiency - Opportunities and challenges for Kosovo"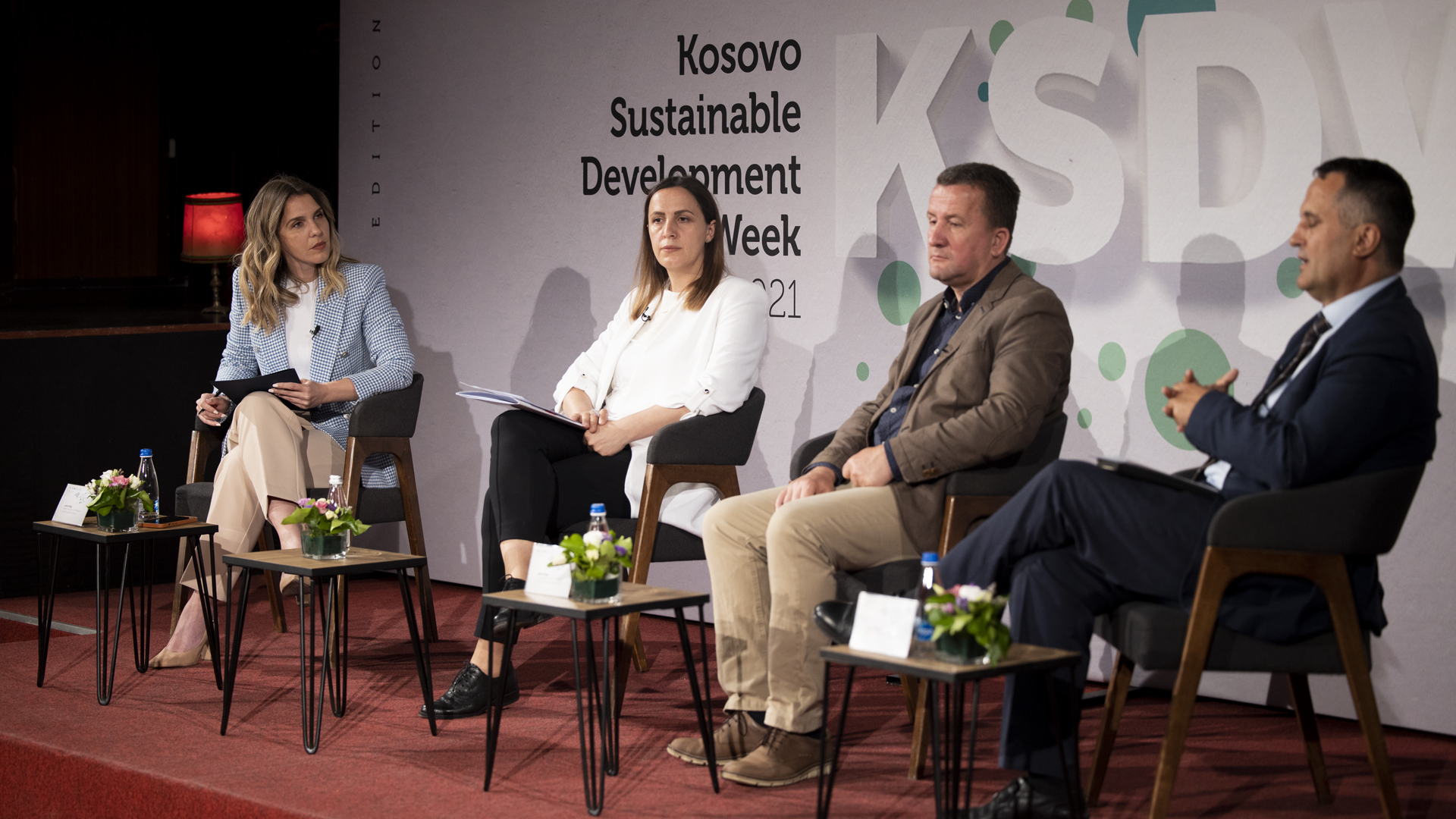 The second panel addressed the topic of "Digitalization of energy efficiency - Opportunities and challenges for Kosovo", which was moderated by Ms Learta Hollaj, Advisor to the President of the Republic of Kosovo for Sustainable Development, while the panellists were Admir Shala, Managing Director of the Kosovo Energy Efficiency Fund, Avni Sfishta, Team Leader at GIZ Kosovo, and Melinda Bajrami from Kosovo Agency for Energy Efficiency, whereas Andrei Covatariu, Member of the Task Force for Energy Digitalization at the United Nations Economic Commission for Europe, joined virtually.
Ms Hollaj paraphrased that the pandemic has forced governments and the private sector to identify smart and innovative ways to use and manage natural resources. In this regard, energy efficiency also represents all forms of energy that do not need to be produced. Energy efficiency is considered one of the top strategic priorities. Relatedly, the digitalization of energy efficiency is also considered as a form of achieving energy transition. Ms Bajrami defined how the Kosovo Agency for Energy Efficiency works towards ensuring the digitalization of energy efficiency. She said that the programs of this Agency are digitalized and implement energy efficient measures. Given that the technical aspect of digitalization of energy efficiency has been met, she said that Kosovo is still waiting for the Administrative Instruction which would then clarify the process of how these measures will be functionalized in all municipalities. "Kosovo reports to the Energy Committee on achieving the targets for energy efficiency and Kosovo is in fact one step ahead of the region", said Ms Bajrami.

Managing Director from the Kosovo Energy Efficiency Fund, Mr Shala, said that in Kosovo the residential sector is presented as the greatest and best opportunity for energy saving. Also, there are many facilities in Kosovo that use a lot of energy disproportionately to their function. Regarding the Fund, Mr Shala said that the Fund acts cautiously and takes a few steps before deciding to digitalize the facilities. Even after the Fund undertakes investments, they monitor and verify the investment results to have an accurate picture of the results. Then, the Fund will expand its scope in the private sector and beyond, said Mr Shala. On behalf of GIZ Kosova, Mr Sfishta said that digitalization plays an important role in drafting the country's policies, but also in monitoring energy consumption. He said that the digitalization of municipal properties at the country level, a process which has already been completed, can serve as a buzzer to indicate which facilities consume the most energy and, as a result, instruct which facilities should implement energy efficiency measures. During this year and next year also, the 2 digitalization platforms will be integrated as a result of the support provided by GIZ and the system that will be built will be called the National Registry for Energy Efficiency. This complex system will greatly alleviate the situation on the ground, in terms of energy consumption at the local level, concluded Mr Sfishta.

On behalf of the Task Force for Energy Digitalization at the United Nations Economic Commission, Mr Covatariu said that the Task Force he represents chooses sustainable energy as a way of approaching and achieving the goals that the UN as a whole has. The main goal of the Task Force is to increase various opportunities as options towards achieving the digitalization of the energy sector. In this regard, this Task Force also monitors the Western Balkans region, including Kosovo, and they are open to providing expertise.

Finally, it was concluded that the digitalization of the energy sector in general and energy efficiency in particular is challenging for the whole world not only for us. Nevertheless, many models have proven successful and effective and Kosovo may have enough good practices and models to follow in order for the digitalisation of the sector to be done properly. The full video of this discussion can be found at the link below: https://www.facebook.com/InstitutiINDEP/posts/4236170749774203